Our Pastor
Pastor Joe & Kathy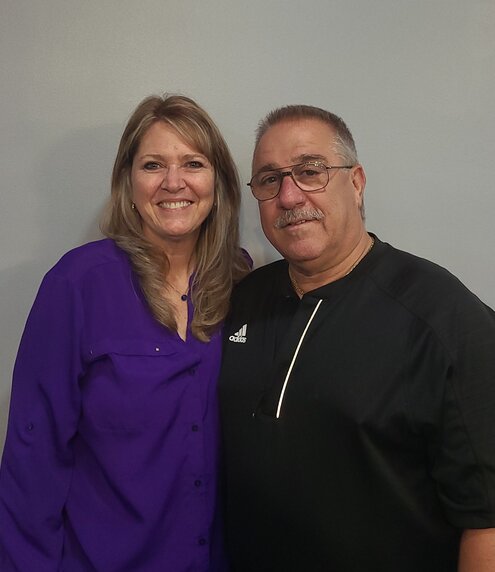 Pastor Joe and Kathy Guadagnino founded Solid Rock Christian Church in Boca Raton, Florida, in 1997. Since starting in their home with 9 people, 5 of whom were kids, they have had the privilege of teaching and counseling many through the years. Pastor Joe and Kathy's desire is to reach the world with God's message of love and hope.
Pastor Joe comes from a family of ministers. His father, Doctor Joe Guadagnino, and mother, Bea Guadagnino founded Christian Love Fellowship Church in Deerfield Beach, Florida, as well as South Florida Bible College and Theological Seminary. Pastor Joe's brother, Pastor Tony Guadagnino, along with his wife Roz, now pastor at Christian Love Fellowship. Pastor Joe feels that in order to impact a community for Christ, we need to be an active part of the community we serve. It is that passion that has prompted Pastor Joe to volunteer coach many sports over the years, most recently helping Kathy coach the Florida Atlantic University Women's golf team from 2014-2018. Pastor Joe has also served as the Chaplain of the Boca Raton Fire Department since 2001 and serves on the Faith Farm Board of Directors, a ministry that focuses on addiction recovery. Pastor Joe has a knack of finding common ground with just about anyone and it is that gift that has helped him connect with so many people.
Kathy played golf on the LPGA professional golf tour from 1982 till her retirement from the tour in 2000. Winning the 1985 U.S. Women's Open has given her many opportunities to share her faith, and she was actively involved with a fellowship of believers on tour. Since retiring from the tour, she has focused more on teaching and coaching golf locally as well as actively working behind the scenes in the various ministries of Solid Rock.
A teacher at heart, Kathy has a deep passion for people to grow in their knowledge and relationship with the Lord Jesus Christ and is presently overseeing the Women's ministry. She believes in everyone's intrinsic and unique value to the body of Christ and desires for people to understand and be released in their God-given gifts to serve the body of Christ.
Pastor Joe and Kathy were married in 1987 and have 3 children, Nikki, Megan, and Joey, and two granddaughters, Lexi and Natalie.